Articles
16 High-End Super Bowl Foods to Elevate the Game
Take your game day event from fun to fabulous with high-end Super Bowl foods. A few gourmet offerings, simple and elegant party foods, and some pro hosting tips will bring your gathering to the next level. Impress guests with your fancy food choices and refined presentation for a Super Bowl celebration that wows.
Warm Guests With Baked Goat Cheese
The most elegant dishes are often quite simple, and this baked goat cheese dip is easy to pull together for an elevated appetizer experience. Serve in a sophisticated dish with toasted or grilled bruschetta on the side.
Upgrade Basic Brie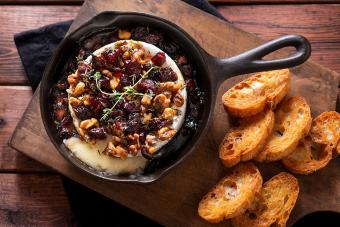 After baking your brie cheese, add a gourmet touch with toppings. Layer honey, pecans, and fresh figs or fig jam on the top of your warm brie. Finish with a generous sprinkling of fresh thyme. Serve with toasted bread, crackers, or apple slices.
Dish Out Gourmet Salads
Guests might look for something light, yet flavorful, at your Super Bowl soiree. Serve a large bowl of fancy salad or fill small jars or saucers ahead of time. Try a seasonal winter salad for a textural experience, or serve a warm salad with quinoa, kale, roasted sweet potatoes, feta, shredded Brussels sprouts, and a tangy homemade honey mustard dressing.
Serve Smoked Salmon
Smoked salmon is a simple ingredient that's easily elevated for a fancy appetizer. Show your guests your posh side with a smoked salmon crostini. For a crowd-pleasing option that doubles as a striking visual for your dining table, try a layered smoked salmon dip.
Try a Fancy Chicken Salad
You can find chicken salad at nearly every Super Bowl party, but your party calls for the fanciest spin on chicken salad. Serve curry chicken salad for a warm and robust flavor experience. Offer bite-sized portions on toasted bread or set your dish out alongside a selection of crackers.
Pack Big Flavor Into Small Bites
Some of the best dining experiences happen on a small scale. The same can be true for the appetizers served at your game day party, like onion and pear tarts. Combine soft and mild pear with creamy goat cheese, caramelized onion, and flaky puff pastry for a winning bite of flavor and texture perfection.
Satisfy Guests With High-End Meats & Sides
Finger foods are great, but a long game day calls for a few hearty options as well. Give guests a gourmet experience as they fill their plates with special Super Bowl cuisine.
Learn Your Way Around Beef Tenderloin
The recipe may be simple in principle, but a flavorful and juicy beef tenderloin is worth perfecting for all your parties, including your famous Super Bowl celebration. A plate of beautiful beef tenderloin slices will entice your guests the moment they spot the food spread. Be sure to use fresh herbs and high-quality butter for the best tenderloin party goers have ever tasted.
Roast Brussels Sprouts for a Stunning Side
Brussels sprouts can be an elevated and visually appealing side dish for your game day table. Look for sprouts still attached to the branch for a striking finished product. Cover your attached sprouts with olive oil, maple syrup, and fresh rosemary. Roast on a sheet pan or in a deep roasting pan until the edges are brown and crispy. Remove from the oven and top with toasted pecans and bacon crumbles for extra texture.
Serve Duchess Potatoes
Every game day plate needs a helping of potatoes. Make yours are gourmet with a garlic and parmesan duchess potato recipe. Be sure you use an open star frosting tip on your piping bag to get those crispy ridges, and add plenty of parsley or fresh basil for a refined garnish.
Make Homemade Versions of Beloved Snacks
Take your snacking game to the next level with a homemade and gourmet version of fan favorites. Serve snacks on decorative platters or inside beautiful bowls for a decorated way of presenting your creations.
Make Your Own Root Veggie Chips
Offer a gourmet twist on the typical bowl of game day chips and make your own root vegetable chips for a colorful snacking experience. Thinly slice carrots, beets, sweet potatoes, radishes, or rutabaga and top with olive oil or avocado oil and your favorite seasoning. Bake at 400°F until the edges of your vegetables start to curl and crisp. Let your chips stand for a few moments, then serve in your favorite bowl.
Serve a Gourmet Snack Mix
When guests ask where you got the delicious cracker and pretzel mix, you can smile and tell them it came straight from your kitchen. Blow your party goers away with homemade everything ranch snack mix featuring salty pretzels and crackers. The seasoning will dress these average snacks in a flavor dusting fit for the finest occasion.
Try Your Hand at Homemade Soft Pretzels
The snack that can swing salty or sweet, a soft pretzel is a great way to keep your friends satisfied between huddles. Make an easy version of this classic concession and serve it alongside a gourmet lineup of dipping sauces. Give visitors options like salted caramel sauce, dark chocolate ganache, dijon mustard sauce, and a spicy marinara sauce.
Play Pastry Chef With Fancy Desserts
Cookies and brownies are great on game day, but after a gourmet meal lineup, your guests will expect only the best dessert from your kitchen. Satisfy their sweet cravings with a fancy treat worthy of the meal MVP title.
Make High-End Treats From Store Bought Elements
Your fancy dessert doesn't need to keep you in the kitchen all day because you can transform store-bought treats into delectable desserts. Use small round cookie cutters to slice through store bought brownies and layer them with canned frosting for an instant chocolate petit four. Whip up a refreshing trifle with whipped cream, lemon pudding, lemon pound cake, and a crumbling of lemon cookies. Make your own truffles by mixing eight ounces of cream cheese with one package of crushed sandwich cookies and rolling the mixture into two-inch balls. Freeze your truffles before covering them in chocolate or candy melts.
Serve Mini Chocolate Souffles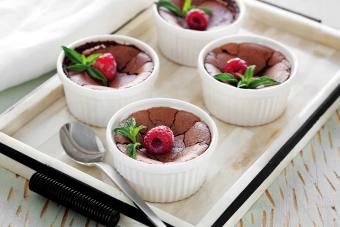 Bake mini versions of chocolate souffle in ramekins for guests to enjoy on their own or share with a friend. Line your ramekins up on a large serving platter for an elegant display of your homemade sweets. Garnish souffles with a mixture of berries and a sprig of mint for an extra gourmet touch.
Offer S'mores With an Elegant Twist
Everyone loves a s'more treat, no matter the occasion. Serve your friends a gourmet s'mores dessert to celebrate the Super Bowl this year. Make your own s'mores tart with toasted meringue and watch your attendees marvel at your pastry skills as they dig in. You can even make your own gourmet marshmallow bars topped with all the s'mores fixings for a fancy way to serve the campfire classic.
Instantly Elevate Your Game Day Menu
Even the most basic Super Bowl menu items can feel high end and elevated with a few simple tricks. Take your game day spread from good to gourmet by paying attention to all the tiny details as you prepare.
Serve menu items on prepared individual plates for a restaurant-level presentation.
Garnish everything on your table. Use fruits, spiral cute vegetables, and add fresh herbs and drizzles of sauces to make your plates and platters stand out.
Use plenty of color, texture, and bold flavors in your menu. Avoid serving a lineup of similarly colored foods or flavors that are reminiscent of one another.
Leave plenty of blank space on your plates and platters, so your table looks elegant rather than crowded.
Upgrade your server ware. Fancy platters, thick glass bowls, crystal dishes, and gold serving utensils will instantly make even your simplest recipe look high end.
Serve sauces and salsas in small bowls or ramekins rather than setting out bottles and jars to clutter your table.
Even when choosing disposable dinnerware, look for the most elegant version. You can find gold or silver plastic utensils, clear disposable cups, and heavy-duty disposable plates that look like a porcelain dish at first glance.
Make Your Super Bowl Party the One to Beat
With a gourmet menu, a beautiful table display, and a room full of your favorite people, your party will be the one talked about for weeks to come. Level up your usual menu offerings and spend a little more time on the details of your gathering for a fancy Super Bowl showing that makes tackles and fumbles feel like luxury entertainment.
© 2023 LoveToKnow Media. All rights reserved.