Articles
A Guide to Southern California Beach Camping: Tips and Locations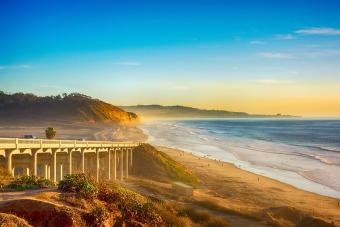 Camping on the beach in Southern California is something special. Few places in the lower 48 states offer such ideal conditions or the variety of choice for beach camping that you can find along the SoCal coast. Long, sunny days, temperate weather, and beautiful scenery greet beach campers who visit Southern California's many shore-side campsites. Although you will have to contend with the crowds at my of these locations, with some planning, you can find your ideal camping spot.
Top SoCal Beach Camping Spots
The boundaries of Southern California are not exactly agreed upon, but for the most part, nearly everyone accepts that all coastline south of Point Conception in Santa Barbara falls within this region. There are many places to camp on the beach in SoCal, but nearly all require reservations and overnight fees, especially in the summer months when demand is at its peak.
Gaviota State Beach and Campground
This state beach falls along a picturesque portion of the Santa Barbara coast. The campgrounds are close to Gaviota Pier and very good fishing opportunities, quality surf spots, and hiking trails. Located along the 101 just west of Santa Barbara, the Gaviota Campgrounds offer visitors all the sights, activities, and convenience of SoCal beach camping.
Gaviota State Beach Campground has both tent and recreational vehicle (RV) campsites, though because winds can be an issue, tent camping is sometimes difficult and unpleasant. Bring and use tent stakes if you plan to camp here. The Campground features a store and bathing facilities, and is open from April to late October, though campsites may be available on weekend days in the off season, depending on the weather. There are 38 campsites total, reservations are required, and sites cost $45 per night.
El Capitan State Beach Campground
This state beach offers visitors tidepools, oak and sycamore trees, and opportunities for beach access. Tent and RV camping are available, as are five select group campsites, and the campground provides opportunities for fishing, swimming, surfing, biking, and more.
El Capitan State Beach Campground has a camp store, showers, and includes 128 paid sites, 119 of which are standard campsites that can accommodate either tents or RVs, and another 9 sites that are limited to RVs and trailer camping only. Sites cost $45 for standard accommodations, and $55 for premium sites, during the peak season from March to November.
Carpinteria State Beach
Comprised of four campgrounds — named Anacapa, Santa Cruz, Santa Rosa, and San Miguel — this state beach campground offers several local attractions, including the Harbor Seal Preserve, a play area, tar pit park, and Jellybowl Vista Point, which is an exposed reef break and surf spot. Located west of Santa Barbara, this beach includes access to local amenities and a lot of families to do.
Campsites range in price from $45 to $80, with some sites closer to the beach designated as premium spots. Both tent camping and RV sites are available, as are group sites. The campground has an on-site store, visitor center, showers, full hook-up sites, and more.
Bolsa Chica State Beach Campground
Located just north of Huntington Beach, this campground is all about enjoying the coast and surf. Bolsa Chica campgrounds are RV-only, and tent campers are not allowed. Access includes a bike path, volleyball, surfing, swimming, and sun bathing. There's a lot of open beach at Bolsa Chica, so plan to be in the sun most of the day on your trip.
There are 55 campsites available, with electric and water hookups. premium sites closer to the shore offer beautiful views of the Pacific sunset. Regular sites cost $55 per night, and premium sites cost $65. Reservations are required.
Crystal Cove State Park Campgrounds
This location includes Moro Campground, close to the beach, just across the 1 freeway from the Pacific ocean. These are relatively primitive sites, and Crystal Cove also features hike-in tent sites further away from the beach. Nearby wooded canyons, hiking opportunities, the local Historical District, more than 3 miles of open beach, bluffs overlooking the Pacific Ocean, and an offshore underwater park make Crystal Cove a highly desirable spot for campers, SCUBA divers, and tourists.
Although the Moro Campground is mostly considered primitive and is undeveloped, RV sites are available, and showers are located nearby on-site. There are 57 sites in total, with 27 being reserved for RV campers. Regular sites cost $55 per night, and reservations are required.
Doheny State Beach Campground
Located in the city of Dana Point — with all of its amenities — Doheny is very popular and is often very crowded. Tide pools, surfing, fishing, picnicking, and outdoor recreation are all available within walking distance of the campsites. Several campsites are right on the beach, though other sites are situated further away.
Reservations are required to stay at one of the 118 campsites, which are open year-round. Thirty three of the sites are designated premium oceanfront sites, and there are also 16 sites designated for RV usage. Regular inland sites cost $40 per night, and premium sites along the beach cost $60.
San Onofre State Beach Campground
Although these campgrounds are not located right on the beach — San Mateo Campground is further inland, and Bluffs Campground overlooks the Pacific Ocean — they offer beach access and views of San Onofre's now defunct nuclear plant. Those who don't mind the scenery have access to excellent surfing, fishing, and local amenities.
There are more than 300 campsites between the two campgrounds, and reservations are required. Regular tent sites cost $40 per night, and $65 for sites with RV hookups.
South Carlsbad State Beach Campground
This bluff-top campground in South Carlsbad State Beach overlooks the Pacific, and has spectacular views, especially at sunset. Located just 3 miles from Carlsbad, local beaches are within close proximity. Beach access is provided by stairs that lead directly from the campsite. Many campsites sit right along the bluffs, and a short chain-link fence provides safety to campers.
Showers, a camp store, and laundry facilities are available. Reservations are required. There are 215 campsites available, with many designated for RV usage. Regular sites cost $35 to $50 per night, depending on location, and hook-up sites cost from $60 to $100 per night, depending on location.
Camp on the Southern California Coast
Beach camping is very popular, and you need to plan ahead if you want to snag a spot during your preferred vacation days. Because of Southern California's exceptional weather and world-renowned local attractions, many campgrounds reach capacity, even in the off season. It's worth the effort, however, to hit the beach and enjoy all the outdoor fun you can handle in Southern California's beach campgrounds.
© 2022 LoveToKnow Media. All rights reserved.